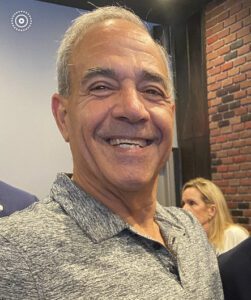 Hello, my name is Frank Marciano and I welcome you to Sunlight Ministries.  Through a series of miraculous events, Sunlight Ministries was founded in 2011.  Since that time, we have been able to positively impact and encourage many Christian Ministries.  Look at "Our Friends" page to see some of these ministries. In 2017, I retired from my business career and began to firmly establish the activities of the ministry. 
As a business leader, it was always about building an energized team and doing things that no one thought was possible. Throwing away the molds that define mediocrity and creating value for people at all levels of my sphere of influence were key to my success.  I would tell my people, "Do the right thing and think long term", to this day, I consider this a key hallmark for success in any endeavor. 
As an elder and servant in my church for more than 30 years, it has always been about serving and encouraging others in the word of God, while supporting ministry leaders through thick and thin.  Sunlight is a place where business leadership and Christian ministry converge for the benefit of others.      
Throughout my life I have enjoyed developing successful people and mentoring leaders.  At Sunlight we want to serve Jesus with integrity and humility, while bringing value to others.  Our goal is to touch as many people as possible, having a positive impact on their lives, activating them in their calling and seeing them attain what God has set them apart for.  At the end of the day, it's all about pleasing our Creator by diffusing "the fragrance of His knowledge in every place." 
In the words of Paul, the Apostle, "Now thanks be to God who always leads us in triumph in Christ, and through us diffuses the fragrance of His knowledge in every place. For we are to God the fragrance of Christ among those who are being saved and among those who are perishing. To the one we are the aroma of death leading to death, and to the other the aroma of life leading to life." II Cor 2:14-16
We pray that Sunlight Ministries would be the "aroma of life" to many and be pleasing in His sight. 
Located in Delray Beach, Fl, the Sunlight Ministries Leadership Center opened in October 2018.  Since that time, we have been building a following and preparing for our next steps.  He leads, we follow, one step at a time! 
Please join me and the other leaders on our journey!
Sincerely,
Frank Marciano
To inspire and develop leaders for the fullness of their calling and purpose in the Kingdom of God.
To build unity in the local body of Christ in preparation for the great end-time harvest.
An extended family of Christian leaders united in mind and spirit, partnering to accomplish God's work in the earth.
Do nothing from selfishness or empty conceit, but with humility of mind regard one another as more important than yourselves
Having character that is authentic, wholesome and molded with respect to God's moral qualities.
"He who walks in integrity walks securely, but he who perverts his ways will be found out." Proverbs 10:9 NASB
To intentionally contribute to the welfare of others